San Ignacio to Mexico Border (Includes Wi-Fi, Beverages, & Snacks)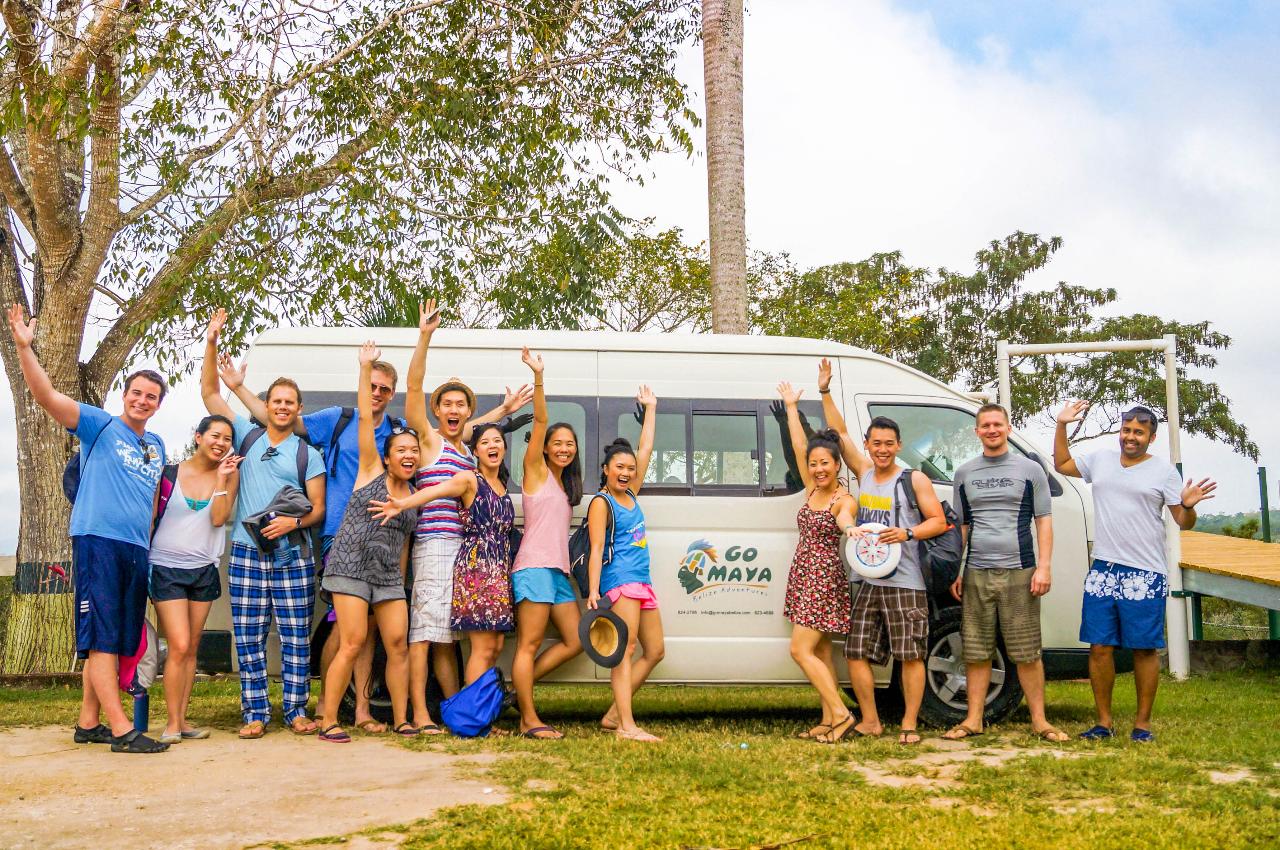 Duração: 4 Horas (Aproximadamente)
Localização: San Ignacio, Cayo
Código de produto: SIBMB
INCLUDES: Wi-Fi (1GB)
& refreshments with snacks
Choose Hotel Drop-off/ Pick-Up or Tour Add-Ons
Equipped w/ 3rd party liability insurance &
knowledgeable guides/ drivers.
***HOW TO ENTER DETAILS***
1.) "ENTER
NUMBER OF PARTICIPANTS" - Select "1" from the drop down
menu (this means 1 shuttle). Do not enter "2", or "3", or
"4". Or the cost will be multiplied accordingly.

2.) "ADDITIONAL
PERSONS" - If there are more than
4 persons in your party, select the number of extra persons (apart from the
initial 4pax) from the dropdown list.

3.) "SELECT
LOCATION" - Don't worry about the
erroneous location on the dropdown list, this is a software glitch. The title
of your transfer has the correct To/ From locations.

4.) "ONE WAY or RETURN" - Choose accordingly.

5.) "TIME & DATE" - Enter according to need.

6.) "BOOK NOW" - Proceed.

7.) "ADD ON EXTRAS" - Select from a list of extras, whether you wish
to add a hotel pick-up/ drop-off (outside town limits), in-van Wi-Fi, Water
& Snacks, a Tour add-on, etc. Choose from a variety of extras at specially
reduced rates to go with your transfer.
Why
wait until you get to your next destination to connect with your loved ones at
home, book your next destination/ activity, or get some work done when you can
do all of this while you travel in comfort between your destinations in Belize.
Kick start your Belize Vacation Mode with our
cold Belizean Brew, water & snacks at specially reduced prices.
Feel free to select any of our tour add-ons to
your transfer and add value to your transfer while maximizing on your
time.
Choose from a stop at The Belize Zoo, The
Baboon Wildlife Sanctuary, a Cave Tubing or Zip Lining tour, a trip to
Xunantunich or any of our various tour add-ons with your transfer between San
Ignacio & Belize City (or any northern destination). Of course this depends
on how flexible your schedule is.
Select from a similar array of tour add-ons
for transfers between Placencia (or any southern destination) & either San
Ignacio or Belize City.
Our drivers are licensed guides with a wealth
of knowledge and a great sense of humor and professionalism to keep you
entertained and answer all of your queries about Belize.