Cave Tubing (7 - 13 pax)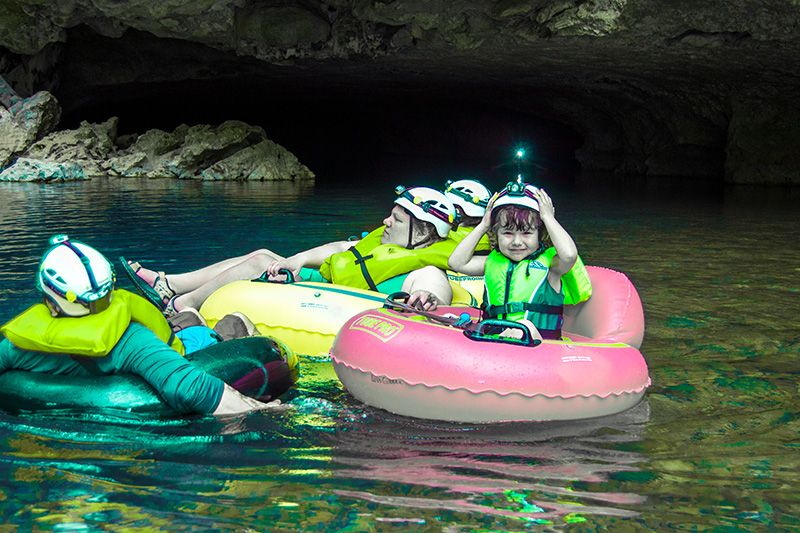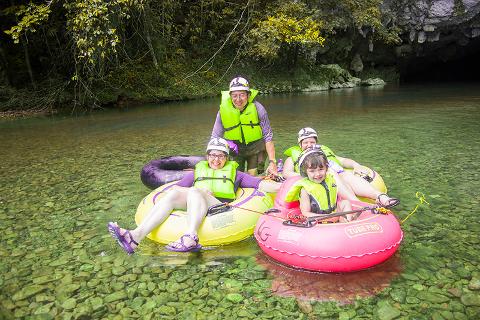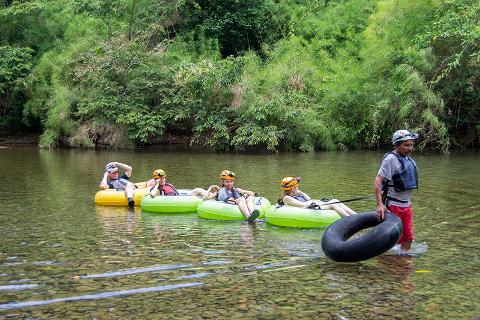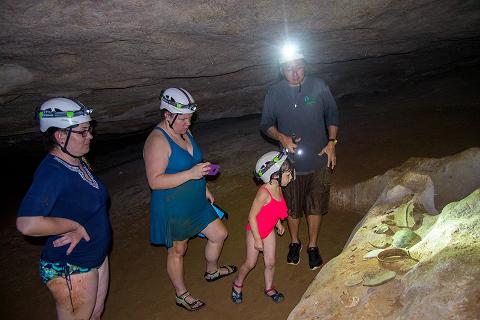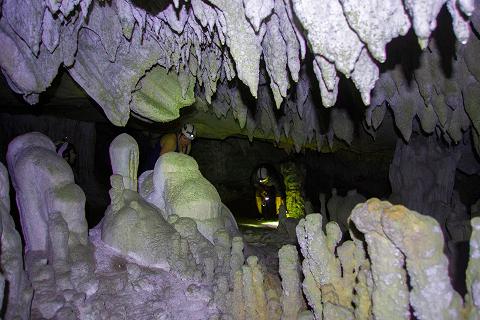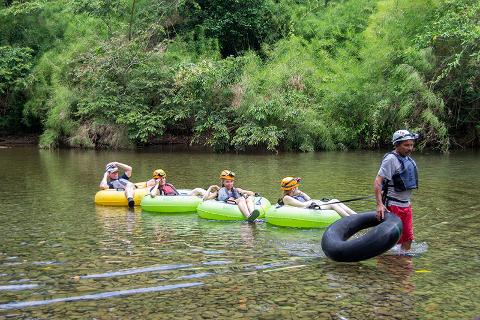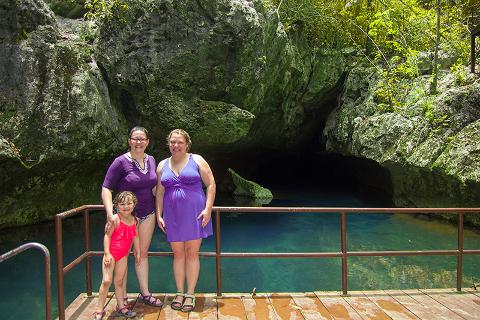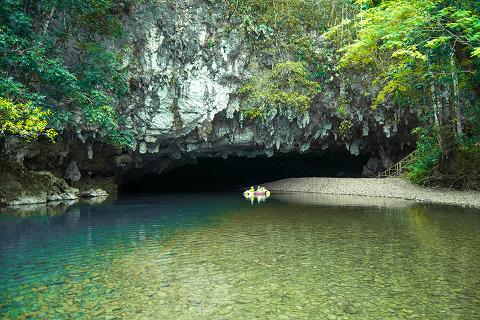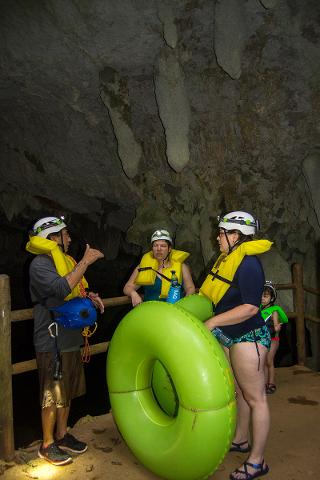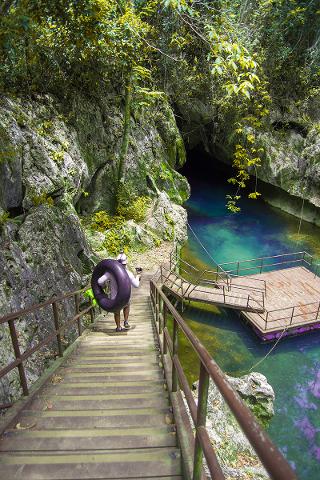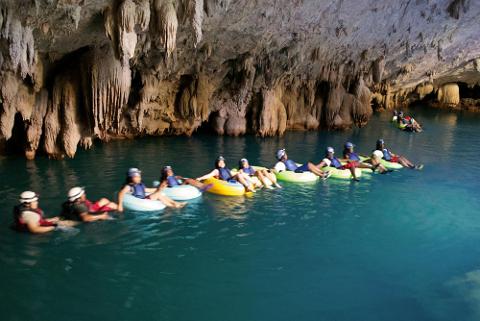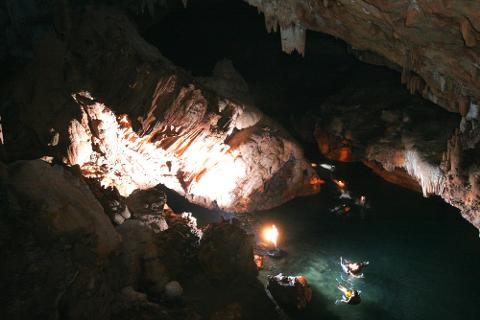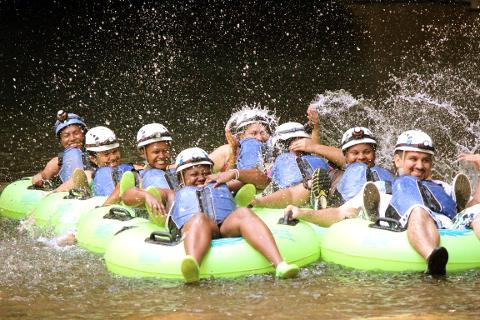 Duration: 7 Hours (approx.)
Location: San Ignacio, Cayo
Product code: CT713pax
This tour is normally done in combination with any other half day tour (in this case, with Xunantunich Ruins) If you're visiting with children or non-swimmers please let us know this ahead of time.
Starts: 9:00AM Ends: 2:00PM
or
Starts: 1:00PM Ends: 6:00PM
Getting There: The adventure begins at 9:00AM (or 1:00PM if you chose the afternoon tour) with a pick up at your hotel or in San Ignacio Town. We embark on our journey out of San Ignacio on an hour and 15 minutes' drive along the George Price Highway (paved road) until arriving at the junction of the Jaguar Paw Cave Tubing outpost. The drive into the site's parking lot is another 10 minutes or so on paved road.
At the site: Upon arriving at the parking lot, you guide checks you in with the ranger. Here you can use the expansive restroom complex to change into your swimwear if you haven't as yet done so. Your guide then walks you over to the tube racks where you'll pick a tube of your choice. We provide you with life jackets, helmets, and headlamps.
Once we're all geared up, we then embark on a 45 minutes' hike across the clear blue Caves Branch River. At this crossing there's a rope across the river to assist you crossing. The water is waist-deep, typically. After the river crossing, we start off along a jungle trail heading upstream alongside the river. Your guide will point out interesting aspects of the local flora & fauna as we trek through – perfect time to take out your cameras (preferably water proof).
Upon arrival at the designated starting point, your guide will brief you on the proper safety techniques for boarding & floating on your tube. If you're adventurous, you'll want to dive or splash into the water from a rock at the starting point. From here, your guide will set you afloat through a series of cavers which periodically open up to the sunshine & jungle. When the water current is strong, you'll be tied up into a cluster (like a train) with ropes so as to avoid anyone straying away. Your guide will occasionally point out various Maya artifacts within the crevices of the caves. Depending on time availability, he may allow you to unboard your tube & walk up for a closer look if you wish.
Departing: Since you'll be ending back at the river crossing downstream, you'll only be needing to get out of the river and head back on a short trek to the parking lot. Here we'll deposit our tubes and then we're free to change into our dry clothes. Once everyone is all dried up, we board the vehicle and head back onto the George Price Highway and onto San Ignacio, arriving around 3:00PM depending on individual pace. This tour is normally done in combination with other half day tours such as Xunantunich, Cahal Pech, Zip Lining, or The Belize Zoo.
Duration: Approx. 6 hours (Jaguar Paw Cave Tubing)
Difficulty level: Moderate
What to Bring: Water Shoes (no flip-flops or open toe sandals), lightweight Shorts, Lightweight shirt, change of clothes, Sunscreen, Insect Repellant, Water, Camera (must be water proof).
Provided: we provide you with helmet, head lamp, life jackets, and towels.