Caracol Temples w/ Mayan Culinary Experience (10 - 13 pax)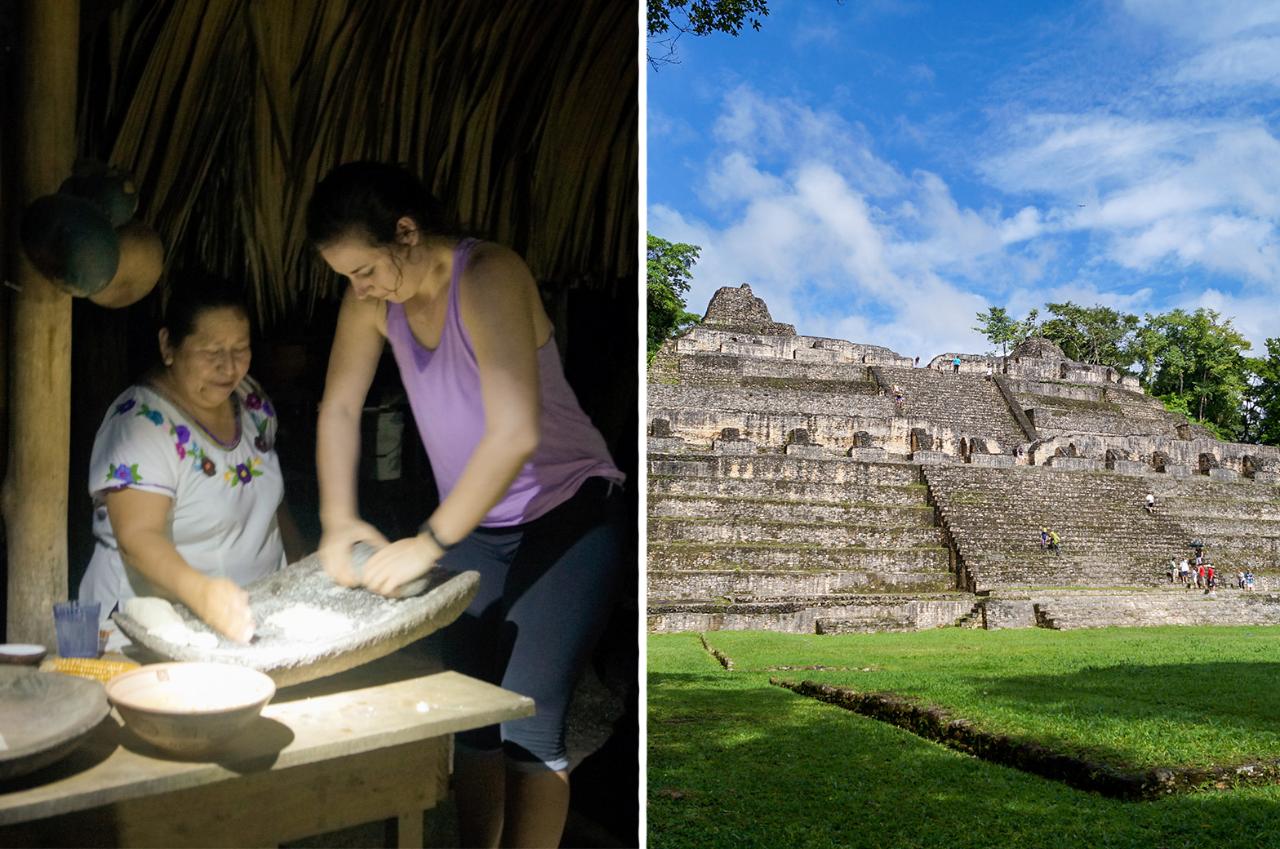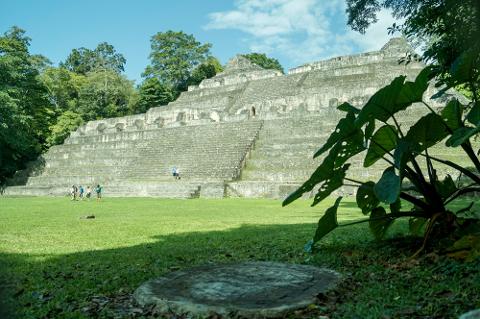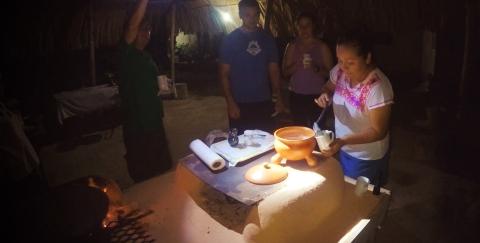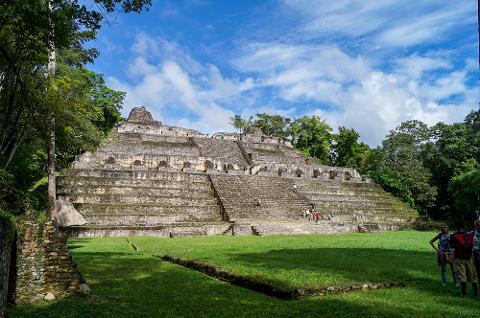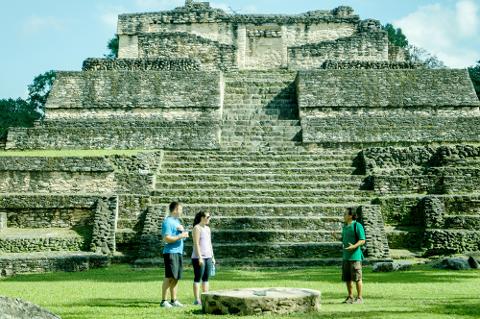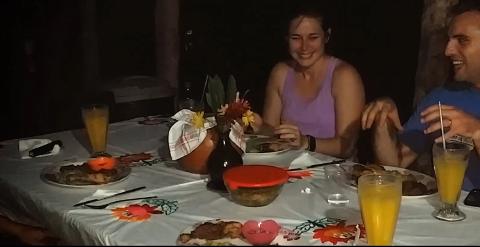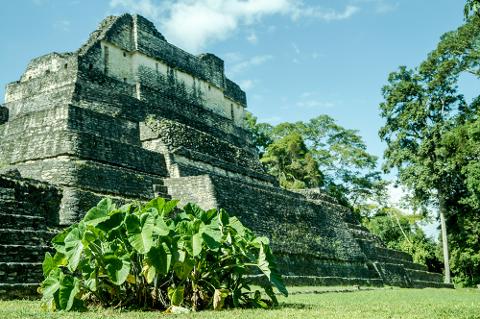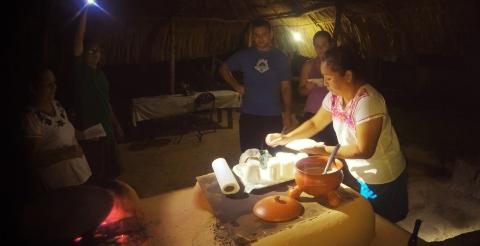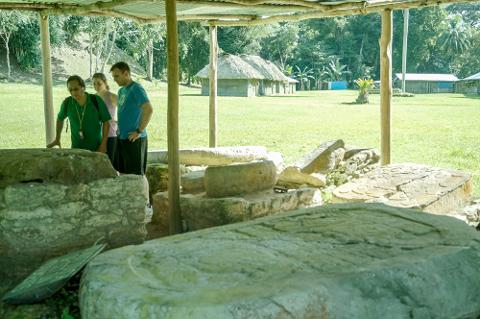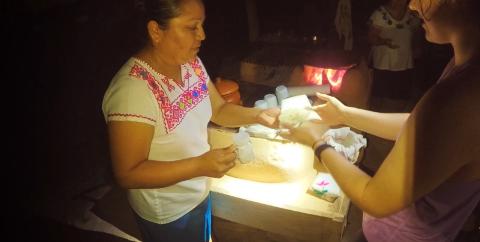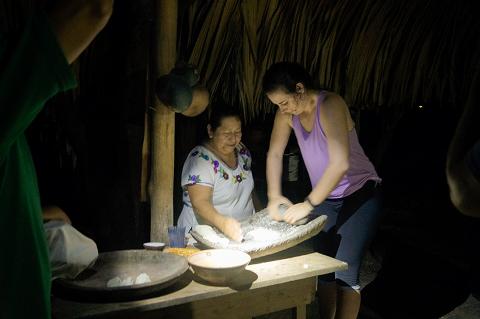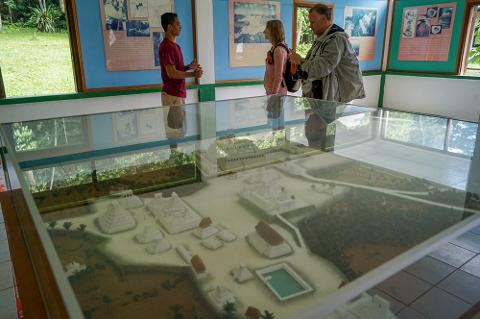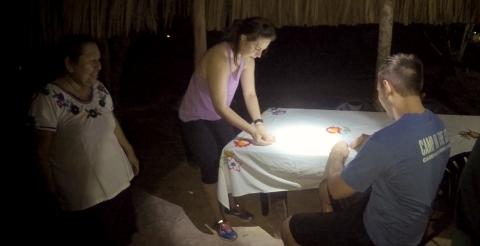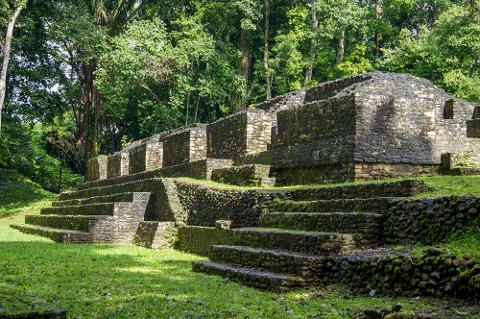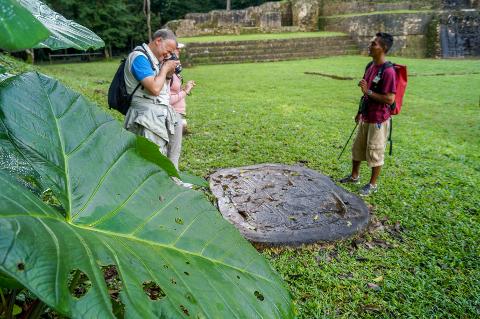 Duration: 9 Hours (approx.)
Location: San Ignacio, Cayo
Product code: CTMCET1013pax
CARACOL MAYAN TEMPLES
Caracol covered approximately 200 square kilometers, covering an area much larger than present-day Belize City (the largest metropolitan area in the country) and supported more than twice the modern city's population. - Wikipedia
Caracol is the largest Maya site in Belize covering about 75 square miles. Caracol was first occupied around 1200 BC, but its epicenter was not populated until around 650 BC, and abandoned in approximately 950 AD, with the entire site abandoned by 1050 AD. Caana (meaning sky palace), the main pyramid at Caracol, houses 4 places and 3 temples and remains the tallest building in modern Belize, with a height of approximately 141 feet. Along with Caana, structures at Caracol include 24 know stelae, 24 alters, a ball court, reservoirs, causeways, 5 plazas, an astronomic observatory, central acropolis, two ball courts, over 35,000 known buildings and more than 100 tombs.
Starts: 7:00AM Ends: 1:00 - 2:00PM
[accordions ]
[accordion title="ITINERARY: " load="hide"]
Getting There: Your adventure begins from 7:00AM with a pick up at your hotel or in San Ignacio Town. We then head out on a 2 hours' drive on a wildlife-rich road. We'll be driving through the Villages of Christo Rey and San Antonio along the way. These are small settlements of mostly farmers along the Macal River Bank. Farther up the road we enter the Mountain Pine Ridge Forest Reserve where we check in at the Park Ranger. Many claim to have seen jaguars and tapirs on the way. The road to Caracol is an adventure in its own throughout the Mountain Pine Ridge which can be quite the thrill during the rainy season. Exiting the Mountain Pine Ride, we then enter into the Chiquibul Forest Reserve, where after a few miles of narrow paved road, we reach the Ancient Maya City of Caracol.
At the Site: Upon arrival at the site, your guide explains its history as he walks you through historical pictures and findings at the on-site museum. Here you'll get an idea of how expansive this site actually is as. The temples that have been uncovered so far encompass only a fraction of the entire site. After the museum, we're off to an actual exploration of the ancient temples.
Try to contain your excitement and listen to your guide while he explains the various structures' purposes and the stories in the several stelae. Feel free to climb to the very top of Caana, the tallest temple. You will certainly be awestruck by the view from the top!
After the main temple, your guide will show you to sever other temples as well as a collection of stelae with impressing inscriptions on them. Once you've had your fill of knowledge (be sure to ask as much questions as possible), we then head back to the park station where your guide will dish out a delicious lunch meal for you.
Departure: After a satisfying lunch, we then board our vehicle and head back into the Mountain Pine Ridge with the option of stopping for a refreshing dip at the Rio On Pools. After a fun stop at any of these sites, we head back out of the Pine Ridge Region and into San Ignacio, arriving[/accordion]
[/accordions]
TOUR DETAILS
Duration: Approximately 5 - 6 hours (At Caracol only)
Difficulty level: Moderate
What to bring: Sunscreen, bug repellent, sun glasses, solid athletic shoes, light clothing, swimwear/change of clothes (if you opt to swim), camera
Provided: Lunch and snacks, bottled water & sodas, towels, life jacket (if necessary).
Note: This is a long day tour that involves several hours of driving to the site. Upon arrival at Caracol, light physical activity will be required for exploration of the Mayan Site. Please wear appropriate walking & climbing shoes, and clothing.
MAYAN CULINARY EXPERIENCE:
Get hands on with the local Maya women of San Antonio Village in making their staple corn foods. You'll be overwhelmed with a timeless feeling evoked by their thatched kitchen, smokey fire hart and ancient tortilla-making methods.
Rio On Pools has gorgeous pools of water running through ancient boulders. You won't regret stopping by to take a nice cold swim, which you will definitely enjoy.
Starts: 2:00 - 3:00PM (or any time after your Caracol tour) Ends: 5:00 - 6:00PM (duration depends on your personal pace)
[accordions ]
[accordion title="ITINERARY: " load="hide"]
Getting There: Since this tour is normally done in combination with another tour (in this case Caracol Ruins), your journey will commence as we board our vehicle at Caracol at around 1:30pm - 2:00pm, then make our way back through the Mountain Pine Ridge road and onto the Mayan Village of San Antonio. The drive is about 1 to 1.5 hours from Caracol.
At the site: The site's parking lot is located just off the main road in San Antonio Village just in front of the host family's house. A little gift shop welcomes you but you may want to contain your excitement to buy the priceless souvenirs until after the culinary tour. Once welcomed and settled down, the leader of the women's group gives you a brief history of their cultural heritage as well as their personal family history. She'll explain what the culinary tour will cover before we move on into the kitchen area where the fire hart and Metate (grinding stone) awaits us.
The kitchen is an open thatch-roofed space (made of dried Cohune leaves and bush sticks) reminiscent of a structure from a scene of Mel Gibson's Apolcalypto Movie. Under its roof there is fire hart made of limestone and sticks, a table with a Metate (ancient grinding stone), a modern "Molino" manual corn grinder, and a dining table with seats.
The Culinary Experience: How to make corn tortillas the Ancient Mayan way.
The process begins with an explanation of how the corn is prepared and hydrated to get it ready for grinding.
Next, and this is where the fun starts as you get hands-on in the process, place a cup full of hydrated corn on the Metate (a flat, slightly curved grinding stone made of volcanic rock or granite).
Next, you proceed to grinding the corn by pressing a "Mano" (almost cylindrical/ flat-ish stone) to crush the corn into a paste.
An alternative method involves the use of the modern manual corn grinder which is faster and but still strenuous.
The paste is the collected and then molded by dexterous hands into a flat circular shape of about 4 to 5 inches in radius. It is safe to call this a raw tortilla at this point.
The tortilla is then placed on the "Comal" (in essence, a metal griddle) previously heated by the open flames of the fire hart.
Once flipped over and done, the tortilla is then place inside dried pumpkin lined with a cloth to keep it warm.
When all tortillas are done, they're ready to be served with a half spoon of coconut oil and a pinch of salt. It's so delicious it's to die for.
Another delicacy produced from this corn is the "Atole de Maiz" or Corn porridge. You'll want to keep asking for more but be polite, you don't want to seem greedy. Save some space for dinner up ahead.
Once you feel like you've master the art of making tortillas the ancient Mayan way and you've gotten your fix of tortilla and porridge treats, its time for an early dinner. The food served is a homemade stewed chicken with corn tortilla or rice (menu options may vary). For dessert, a homemade papaya stew (mind you, its extra sweet).
Departure: After having your fill, saying your goodbyes, and purchasing your souvenirs, it's time to head back home after an unforgettable experience that will last a lifetime. We drive back through the villages of San Antonio and Christo Rey and back into San Ignacio, returning around 6:00 PM depending on your own pace.
Duration: Approx. 1.5 to 2 hours (at the San Antonio Women's Group)
Difficulty level: Easy
What to bring: Bug repellent, cameras, good manners, and an open-minded attitude towards embracing a different culture.
Provided: Dinner at a local Mayan household
Note: This tour is normally done in combination with any other half day tour (in this case, with Caracol Ruins) If you're visiting with young children you may want to consider the fact that they may get a bit impatient throughout the process.