Xunantunich & Barton Creek Canoeing Combo (9 - 12 pax)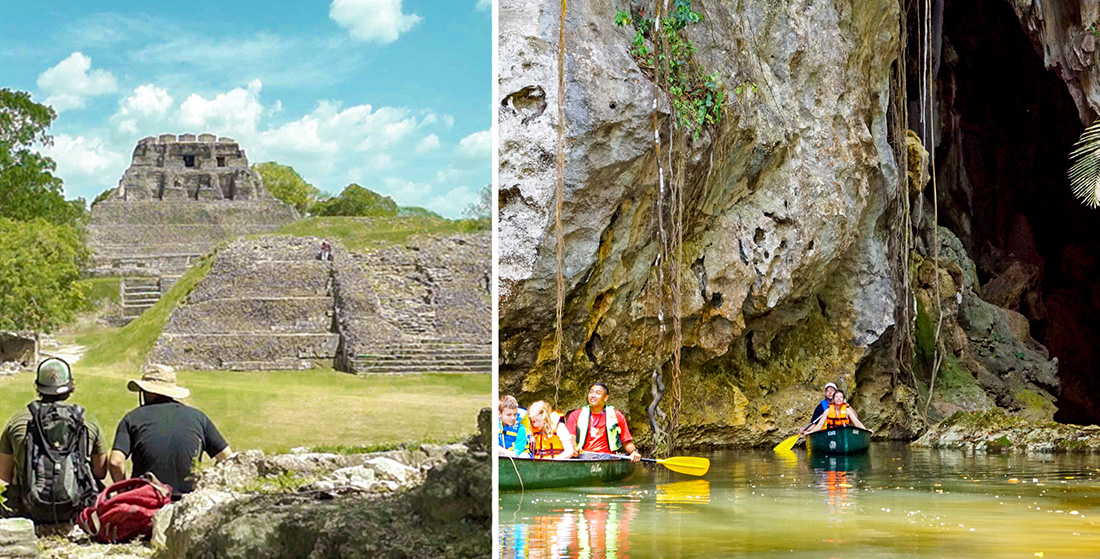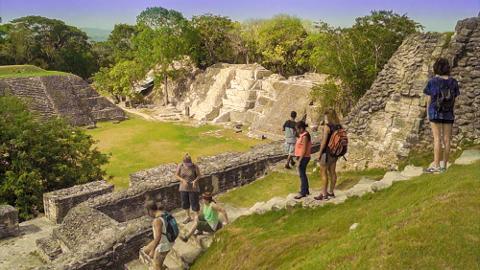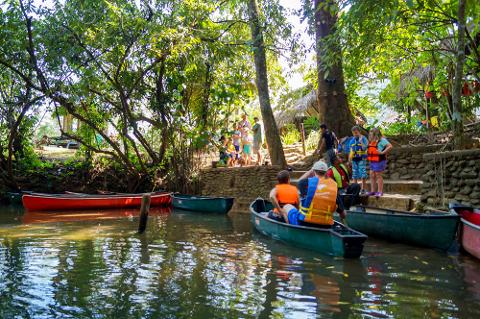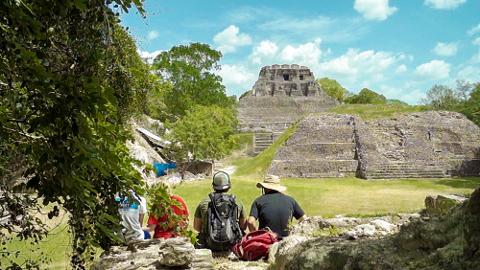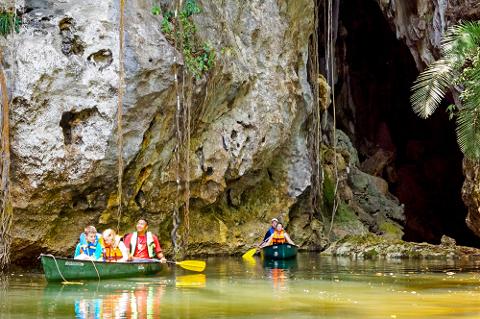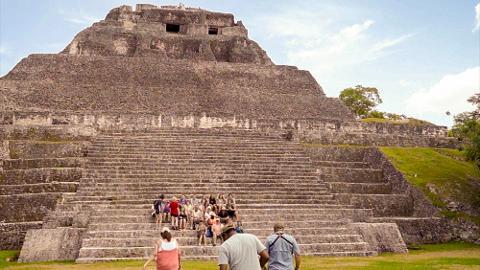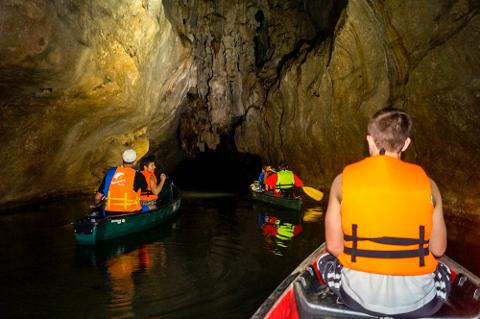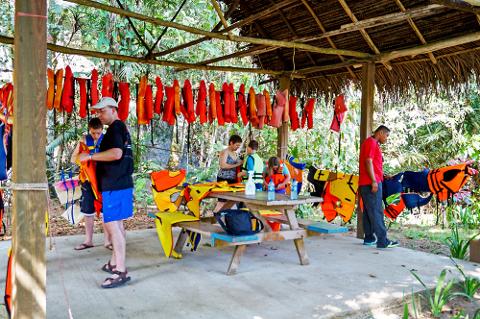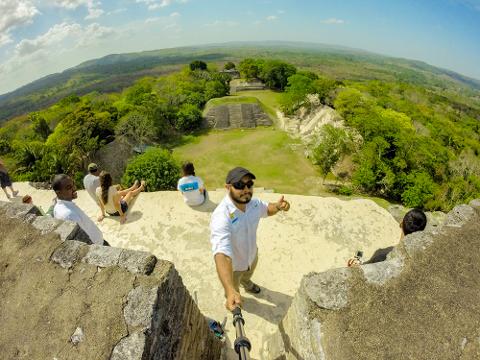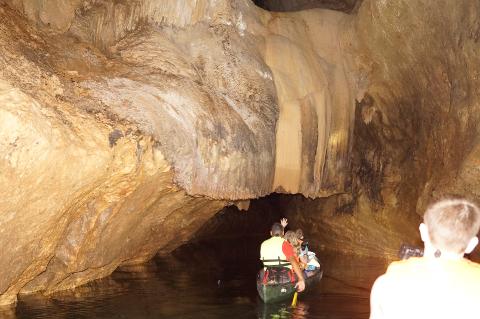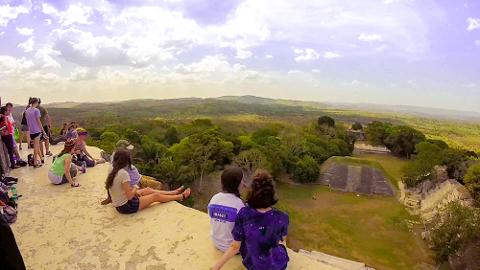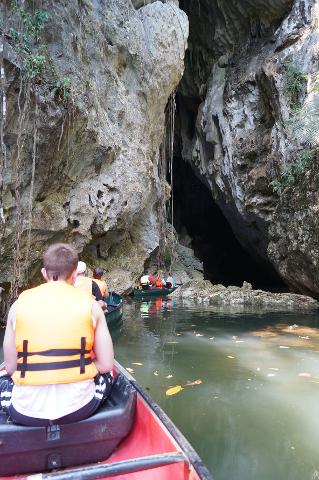 Duration: 8 Hours (approx.)
Location: San Ignacio, Cayo
Product code: XBCCC912pax
Xunantunich was the first excavated Mayan site in Belize that was opened for the public. Though it is smaller compared to the other Mayan sites, it consists of one of the tallest structures. The huge statue of the Sun God, El Castillo, and the 130-foot tall pyramid are a couple of structures that attract visitors. Xunantunich means "stone Woman" or "Maiden of the rock" in the Yucatec dialect. These names are derived from the image of a woman depicted in one of the paintings.
These ruins represent the period of AD 650- 1000 of Mayan civilization when the people had mastered the art of construction. Residential structures spread over 22 acres were found in this site. It seems Xunantunich was abandoned in AD 900 and was again occupied in post classic period. Castillo, a 40m tall building, is one of the tallest Mayan buildings in Belize. The causeways, ball courts and platform mounds excavated here prove that they were far ahead of their generation.
The three most remarkable segments of Xunantunich are the elite residential structures, the middle class residential structures and the ceremonial center. The six plazas of the city were surrounded by 25 palaces and several temples. Very brutal games were played in the ball court complex where the losers and winners were awarded in a most awkward manner.
Starts: 8:00AM Ends: 11:30AM
Getting There: The adventure begins at 8:00AM (unless done as a combo in the afternoon) on a mere 10 – 15 minutes' drive onto the village of San Jose Succotz. Here we will cross the Mopan River via an old-fashioned hand-cranked ferry. All passengers must alight the vehicle while crossing. Having crossed the river, we have a 3 minutes' drive up to the park's parking lot where we unboard the vehicle, register at the park's office, then begin our exploration. A short walk up to the site will cover your guide's briefing on safety procedures and what to expect.
At Xunantunich: Upon arrival at the site, you'll be amazed at how impressive the Temple of El Castillo (the main temple) actually is at a remarkable 120 feet in height. Pay close attention to the history of this once royal center of ancient civilization as your guide walks you through the site. Feel free to climb to the top of El Castillo if you're not afraid of heights. There you'll have a jaw-dropping panoramic view of the surroundings which encompasses part of Guatemala, Benque Viejo Town, and San Jose Succotz among other areas.
Be careful coming down from the pyramid as you make your way over to the ancient ball court. Imagine the excitement happening in real time as your guide paints a vivid picture of how the popular Mayan game of Pokatok was played. On site you may get to see spider monkeys and, depending on the time of the year, even howler monkeys. An on-site museum will give you an overall idea of this ancient city's actual size.
Departing the site: After your tour at Xunantunch, we make back down to the river crossing, once again exiting the vehicle and boarding the hand cranked ferry. If you are doing this tour as a combo, we make our way onto Rumors Resort where we'll have lunch. After lunch, we move on in search of our next adventure.
Duration: Approx 3 hours
Difficulty level: Moderate
What to Bring: Sunscreen, bug repellent, sun glasses, hat, solid hiking shoes, camera, water an adventurous attitude.
Provided: Water
Note: Light physical activity will be required for those who wish to explore the Mayan ruins on foot. Please wear appropriate walking & climbing shoes. This tour is suitable for all ages.
Barton Creek Cave Canoeing
ONE OF BELIZE'S MOST FASCINATING NATURAL AND CULTURAL WONDERS WITH A RIVER PASSAGE OF OVER 4.5 MILES LONG!

Barton Creek is a living cave in that it is still growing and developing with 10ft of water flowing constantly throughout. The ancient Mayans believed that their Gods would reside in such places and Barton Creek Cave in particular because of its abundance of water. The Mayan God Chaac (God of Water) was believed to occupy the cave, whenever the Mayas were going through a draught or needed a god rain for crops they would go into Barton Creek and sacrifice young virgins whom were thought to be suitable gifts to the Gods. The Mayans believed the cave was an opening or gate way into the underworld and treated it with great fear and respect.
Starts: 8:00AM (or 1PM) Ends: 11:00AM (or 4PM)
Getting there: Your adventure starts at 12:00PM as we make our way through and out of San Ignacio Town with a 45 minutes' drive on a dirt road through a Mennonite farmland called Barton Creek. The scenery as we traverse this farmland is very quaint and pleasantly scenic with hills and valleys stitched with organically grown crops. As we near the park site, there's a river crossing just shallow enough for vehicles to cross over.
At Barton Creek Cave Site: When we arrive at the park site, your guide checks you into the office and proceeds onto picking your canoe and then helps you to strap on your life jackets and headlamps. Once geared up, we head over to the river bank where your guide would have your canoe awaiting you for your journey into The Mayan Underworld – Xibalba.
The adventure takes flight when you enter the lime stone cave and float for about 1 hour into the cave. Inside the cave we'll be passing impressive natural crystal formations and various archaeological highlights, all which your guide will be pointing out as you make your way upstream. This tour is very fun-filled and educational as well as refreshing and family- friendly. While inside the cave, at some point of the tour, the guide will ask you to turn off the flash light and you'll listen to the flow of the water running and the water drops from the caves.
This adventure will amaze you with cathedral-like chambers & wide passages. Sit back and relax while your guide navigates your canoe for a leisurely visit. After exploring the underworld, you will head back into town.
Departing: Upon exiting the cave, we settle dues at the canoe shop, board our vehicle and make our way back through the river, the scenic farmland, and back into San Ignacio Town arriving at around 5:00 – 6:00PM. Remember, our combo tours are normally private tours, the duration depends on your leisurely pace.
Duration: Approx. 5 to 6 hours
Difficulty level: Easy
What to bring: Sunscreen, bug repellent solid athletic shoes (sandals are permissible as hiking is minimal), light clothing, bathing suite/change of clothes (optional if you wish to swim), camera (preferably water proof) with strap.
Provided: Canoe, Life Jacket, Helmet, Headlamp, & towel (for optional swim).
Note: This tour involves canoeing in an underground cave system, which is dark and wet. Beware if you suffer from claustrophobia. All equipment is provided by us.